Dr. Michele Broadhurst DC, CCRP | Neuroplasticity – Understanding Myofascial Pain
52 Minutes
---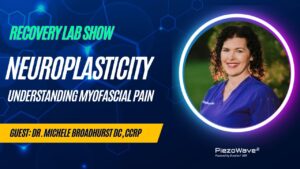 Is it possible to alter our response to chronic pain?
We dive into this on today's episode with Dr. Michele Broadhurst, DC, ICCSP, IVCA, FIAMA, and CCRP. Dr. Broadhurst, a chiropractor from South Africa, is a myofascial expert and certified in acupuncture for pain relief at PCHC. In addition, she ran a successful family practice in Cape Town with her husband for over ten years.
New research suggests that neuroplasticity, the ability of the brain to change and adapt, may play a role in the development of neuropathic pain following nerve damage, whether it occurs near or far from the injury site.
Additionally, studies have found that microglia, immune cells in the central nervous system, can modulate neuroplasticity related to chronic pain.
Understanding the potential impact of neuroplasticity on chronic pain could lead to innovative treatments for this condition. To learn more about these studies, please refer to the sources provided. – https://inflammregen.biomedcentral.com/articles/10.1186/s41232-022-00199-6
→ Let's Connect + hit the icon on my profile + tap into the Joe Lemon Show
↳ Be the first to see (all of) my posts and stay connected.
↳ Listen to the podcast – TheJoeLemonShow.com
Subscribe to Fresh Thought Friday Newsletter: https://bit.ly/FreshThoughtFriday Linkedin Company: https://www.linkedin.com/company/nearsite Linkedin: https://www.linkedin.com/in/joealexlemon/ IG: https://www.instagram.com/joealexlemon/ TikTok: https://vm.tiktok.com/ZMdF9f7hg/